Bathrooms are one of the most important and most used spaces in a home. As such, they need to be maintained, and once in a while, a remodel to ensure that everything is working well. But, while having an updated bathroom can be pleasing, how much exactly will it cost you?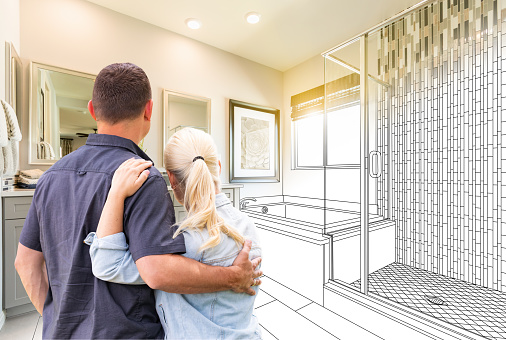 Average cost of remodeling a bathroom 
A bathroom remodel costs on average about $10,000. However, costs depend on many factors, including your bathroom size and materials used. $2,500 is still enough to spruce up your bathroom if you're on a tight budget. High-end luxury bathrooms can cost as much as $30,000 and upwards. 
The average cost per square foot of a bathroom remodel is $120 to $275.
Cost of remodeling a small bathroom
On average, homeowners spend $12,000 to $18,000 to remodel small bathrooms such as a guest bath or powder room without a shower or bathtub. 
Cost of remodeling a master bathroom
A master bathroom remodel will cost you almost twice a small bathroom. This is because master bathrooms tend to have a separate bathtub and shower, double vanity and more storage space. They are also more likely to be en suite bathrooms. While the cost will depend on factors such as materials, be prepared to spend about $30,000 for a full master bathroom remodel. 
10×10 bathroom remodel cost
A 10 x 10 bathroom remodel will most likely cost you somewhere between $12,000 to $27,500. 
Cost of remodeling a bathroom shower
Remodeling a bathroom shower can cost you as little as $200 to $5000, depending on what you want done. For example, a new fiberglass surround and rub can set you back as much as $500, while minor repainting works a few hundred dollars. 
1-day bathroom remodel cost
Again, the cost of your remodel will depend on what you want, but be prepared to pay between $5,000 to $15,000. However, you can most probably expect the installation of a new sink and vanity, toilet and shower kit for this price. 
Cost to gut a bathroom
Demolishing a bathroom can cost between $1,000 to $2,000. If you're planning to gut your bathroom, consult a professional so that you don't hit any pipes and end up paying more for redoing your plumbing. 
Bathroom remodeling cost breakdown
It's tricky to pin down exactly how much your bathroom remodel will cost, and thus, there is a danger that you might go over the total you initially wanted to spend. However, it is possible to estimate how much you will need with some careful planning and research. 
Additionally, you may mix and match materials and fixtures to your taste and budget. The following are some factors to consider when doing your bathroom remodel maths. 
Cabinetry
Most bathrooms do well with a storage cabinet or vanity to keep toiletries, towels and other cleaning products. You can choose to refinish existing cabinetry to save some money or get brand new cabinets. New cabinets can range anywhere from $250 to $3,000 depending on style, size, and whether it's custom-made.
Countertops
You may have to add on a countertop for your chosen vanity. While this will add to your cost, it also means that you can pick something you like. The cost depends on the size and material and will likely range from $200 to $1,000. 
Plumbing
If your plumbing is still functioning well, you may not have to spend too much in this area. This is especially if you're just replacing a toilet or a sink. However, if your home is older and pipes are leaking or rotten, you may have to fork out extra. Plumbing costs are usually between $250 to $1450.  
Fixtures
The cost of fixtures will probably fall between $200 to $1,800. However, this depends on what you want to update and where you purchase the items. 
Flooring
There are many choices to choose from for the bathroom floor. For example, you can add peel-and-stick tiles or modern mosaic tiles. The total cost will depend very much on the size of your bathroom and the type of flooring you choose. Changing bathroom flooring can cost anywhere between $200 to $1,350. 
Doors, walls and ceilings
The cost of your bathroom door will depend on the door you choose. As for walls and ceilings, it will depend on whether you opt to go with wallpaper, paint or tiles. Painting a bathroom can cost from $150 to $550. You'll want to use paint designed for bathrooms to help prevent mold and mildew. Wallpaper and tiles will cost more. 
Lighting
New light fixtures can brighten up your room. Light fixtures usually cost from $100 to $400. Moving or adding wiring will cost more. 
Ventilation
Ventilation fans are important. They keep your bathroom dry and help prevent mold and mildew from growing. Replacing a ventilation fan is not expensive, but the cost depends on your fan's size. You can expect to spend between $50 to $300. 
Other costs
You should also consider giving some space to your budget for the following:
Permits – While simple remodels don't usually require permits, check with state and local requirements. 
Emergency electrical and plumbing works – Bathrooms have lots of plumbing and wiring behind walls that are sometimes damp. While remodeling, you might discover that you have to change plumbing or electrical systems, so it's wise to budget for this. 
Expansions – if you're making changes to floor plans or expanding your bathroom, you might want to consider consulting a professional, which comes with additional fees. 
Cost of remodeling a bathroom for labor
Labor for bathroom remodeling usually costs between $50 to $75 per hour for small jobs. As such, it might make up to 60% of the total price. For larger jobs, you might have to fork out $300 to $400 per day. Additionally, the type of work will also factor into labor costs. For example, plumbers may even charge up to $2,000 per day, while electricians charge $50 to $100 an hour. 
How to save money on bathroom remodeling?
If budget is an issue, there are numerous ways you can reduce your bathroom remodeling costs. Here are some tips:
Plan your budget before you start. Include a little room for unexpected problems. 
Hire a contractor or remodeling company. While doing so will add to the cost, an experienced contractor will most likely be able to source materials easily and help you avoid costly mistakes.
Avoid changing the existing plumbing layout. 
Refinish items such as the tub instead of getting brand new ones. 
Look for alternative materials. Ask your contractor to suggest affordable materials that are of good quality. 
Consider using paint to decorate. 
Consult your contractor on things that you can do on your own. 
Do you need a bathroom remodel?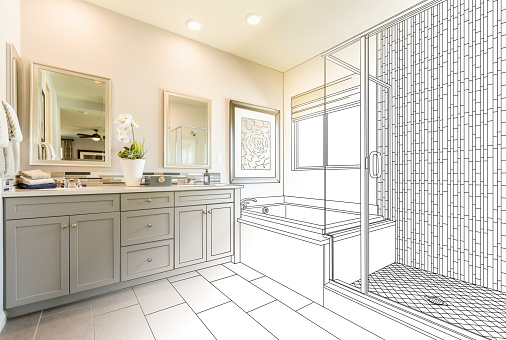 Many homeowners wonder whether a bathroom remodel is really needed. Obviously, you'll need to repair and remodel if your bathroom is falling apart. However, it can be hard to decide if your bathroom is still functional. Here are some reasons to start work on your bathroom:  
Increase the value of your home – An updated bathroom increases the value of your home and makes it more appealing to potential buyers if you plan to put it on the market. 
Reduce electricity bills – Old appliances such as water heaters may not be energy efficient. Newer appliances can help reduce your carbon footprint. 
Prevent accidents and reduce safety concerns – Older bathrooms may have safety hazards. For example, old tile floors may be cracked or slippery. 
Repairs are needed – It's time for a remodel if your bathroom needs lots of repairs. You will most likely save on repair costs with a whole bathroom remodel rather than fixing things one by one. 
You need storage – You'll have the chance to plan where to add storage when you remodel your bathroom. For example, you can add a custom cabinet between the sink and the wall to keep all your toiletries. 
Mold and mildew – Mold and mildew can grow between tiles, behind drywalls and on the ceiling. They can cause allergies and respiratory problems, and a bathroom remodel ensures that all surfaces are clean.
You want a new bathroom – Sometimes, you just want something new and updated. 
Conclusion
If you're considering a bathroom remodeling but worried about the complicated issues that may arise when you start, including costs and budget, why not talk to one of our team at Style & Structure. We're a professional bathroom remodeling contractor in San Diego and the Bay Area with years of experience under our belt. We're always transparent with our costs and will be happy to work with you within your budget. Contact us today!
Please visit our gallery for more information, videos, and testimonials from our clients about our previous projects!